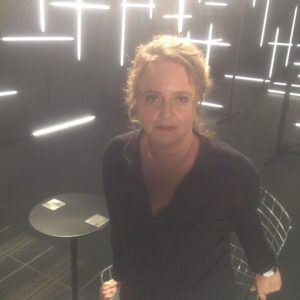 Jordana Berg has been working as a film editor for over 25 years. During this time she was primarily collaborating with Eduardo Coutinho, considered the most important Brazilian filmmaker of the 20th century. Other filmmakers with whom she has worked include the Oscar winner Megan Mylan, Silvio Tendler, José Joffily, Eduardo Escorel and Flavia Castro whose film Lettres et Revolution won Biarritz in 2011.
She has taught masterclasses in Canada, France, the US, Argentina and Uruguai, where she was also a mentor in rough cut laboratories, advising films such as Carlo Guillermo Proto's Ressurecting Hassan, which won the RIDM 2016 in Canadá. Jordana has edited Valentina Homem and Isabel Pennoni's Abigail, which premiered at the The Director's Fortnight, Cannes in 2016 and won the best the Prize For Documentary at Semana dos Realizadores 2016.
Today she is editing documentaries in Uruguay, Argentina and Mexico
She is particularly well known for working with first time directors, listening very carefully to their real desires and helping them to navigate their own creative process.
Jordana is fluent in Portuguese, English, French, Spanish and Hebrew and has basic communications skills of Italian and German.